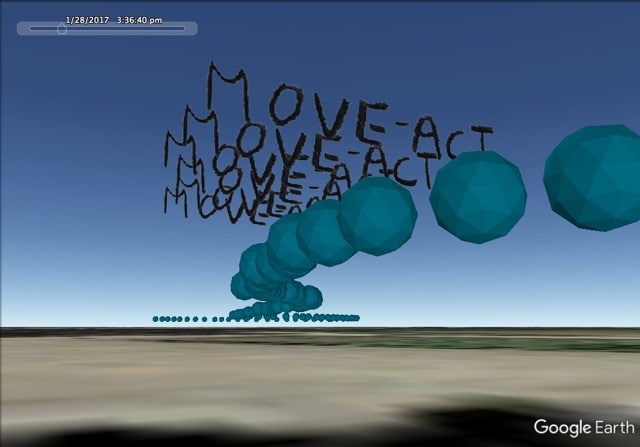 You can build any structure, but only when passed by, it comes into being.
The City as Performative Object, 2017 (ongoing)
Research paper, workshop, lecture performance and video (21'23").

Since 2017 we do research on "The City as Performative Object". This investigation is based on our hypothesis that the city is created by Move-Act of the individual. Inspired by Judith Butler's thinking around gender, performativity and speech-act we approach mobility as a performative force, continuously writing, rewriting and overwriting the city's architecture, identity, planning and intentions. We will explore the city's unstable existence, its ongoing presence as a Performative Object, that is produced by what we call (for now), move-acts.
Our research results in a series of texts, discussions, revisits of artworks, workshops, lectures and a data-film executed in Amsterdam Zuidoost.
Events/Publications/Presentations
• In 2020 we have adjusted the workshop to the lockdown situation, and conduct a public version in collaboration with LIMA in June. This version was also available for Rietveld/UVA and KABK/KC students in May.
• A version of the research has been published in the 2020 Routledge Companion to Mobile Media Art; edited by Larissa Hjorth, Adriana de Souza e Silva, and Klare Lanson. The article can be downloaded here. (For a short version of the tekst in Dutch; download .pdf)
• We have conducted a workshop exploring the proposed lexicon between Oct 28 and Nov 1 2019 at KABK Le Hague with a group of bachelor- and master-students from Art-Science Sonology and Conservatoire.
• Oktober 3 – 6,  2019   The video Walking Essay "City as Performative Object" is part of the NOTES OF AN URBAN PEDESTRIAN exhibition at Mecklenburgh Square Garden in London; UK for documentation follow this link.
• 2019 September 4 Presentation of the video Walking Essay "City as Performative Object" at ZKM as part of the lecture series "Seasons of Media Arts. City of Participative Visions"

•  2018 September 17 -28 we gave a 2-week workshop at KABK Interfaculty, Den Haag, Netherlands.
•  2018 April 13-16 we gave a workshop in Berlin in collaboration with Eric Kluitenberg and HybridSapceLab at Spectrum Berlin
• 2017 September-December we gave a one-day-a-week workshop at Minerva Academie, Groningen, Netherlands
•  2017: Lecture at Penn State Abington, PhiladelphisUSA
•  Stadsleven Blog (In Dutch) Hardlopen in spijkerbroek
•  The Essay in Footsteps was premiered on at LIMA Amsterdam as part of the Conference "Critical Theory in the Humanities: Resonances of the Work of Judith Butler"
• The Essay in Footsteps is published in Open! Platform for Art, Culture & the Public Domain
The Essay in Footsteps is presented as a lecture/performance at Penn State/Abington Art Centre in Philadelphia.
The Essay in Footsteps is executed as a live performance (in Dutch) as part of M4gastcollege Over Taal:
Saskia Monshouwer wrote (in Dutch) a review on our lecture performance
November 2017 The data film in Amsterdam ZuidOost is presented as part of AIR in Zuidoost #2017
The research is kindly supported by the Grant Programme for E-Culture