During this 4 day workshop The City As Performative Object, a group of students (Art-Science interfaculty, Royal Acadamy of Art, The Hague) explored Den Haag as a space that is produced by its mobilities.
Mobilities, in Esther and Ivar's view, are culturally structured through categorizations like the pedestrian, the cyclist, or car driver, to name the most obvious ones.
One possible way to make this process tangible is to engage in hybrid (drag) forms of mobilities: is it possible to be a pedestrian but behave like an automobilist or the other way around? If so, what kind of city space does that produce?
During the workshop, we draw on the theory of the performativity of gender by Judith Butler. We will speculatively apply this to the performativity of mobilities in city-space.
Departing from the mobilities-lexicon that Esther and Ivar proposed in their research, students/participants will explore (public) city space and play with this theoretical framework. They engage in fieldwork and develop a series of practical experiments in the city.
The workshop took place on 9, 10, 12 and 13 September 2019
Research questions:
• By what means this production takes place?
• What kind of city does it produce?
• When/how becomes this process of production tangible?
Lexicon
Students contributed to the lexicon by adding new words (marked green)that they experienced as needed during their fieldwork (see image Lexicon).
Daan contributed by following the theory in the mornings and did fieldwork. On the Friday location tour, he collaborated with Max. He was very motivated to experiment with Move-Authority and invited us all to cross the road behind CS while the lights were red. This resulted in a scary situation, and after one car horn, I said that I could feel his point in my belly and that for me, it was clear.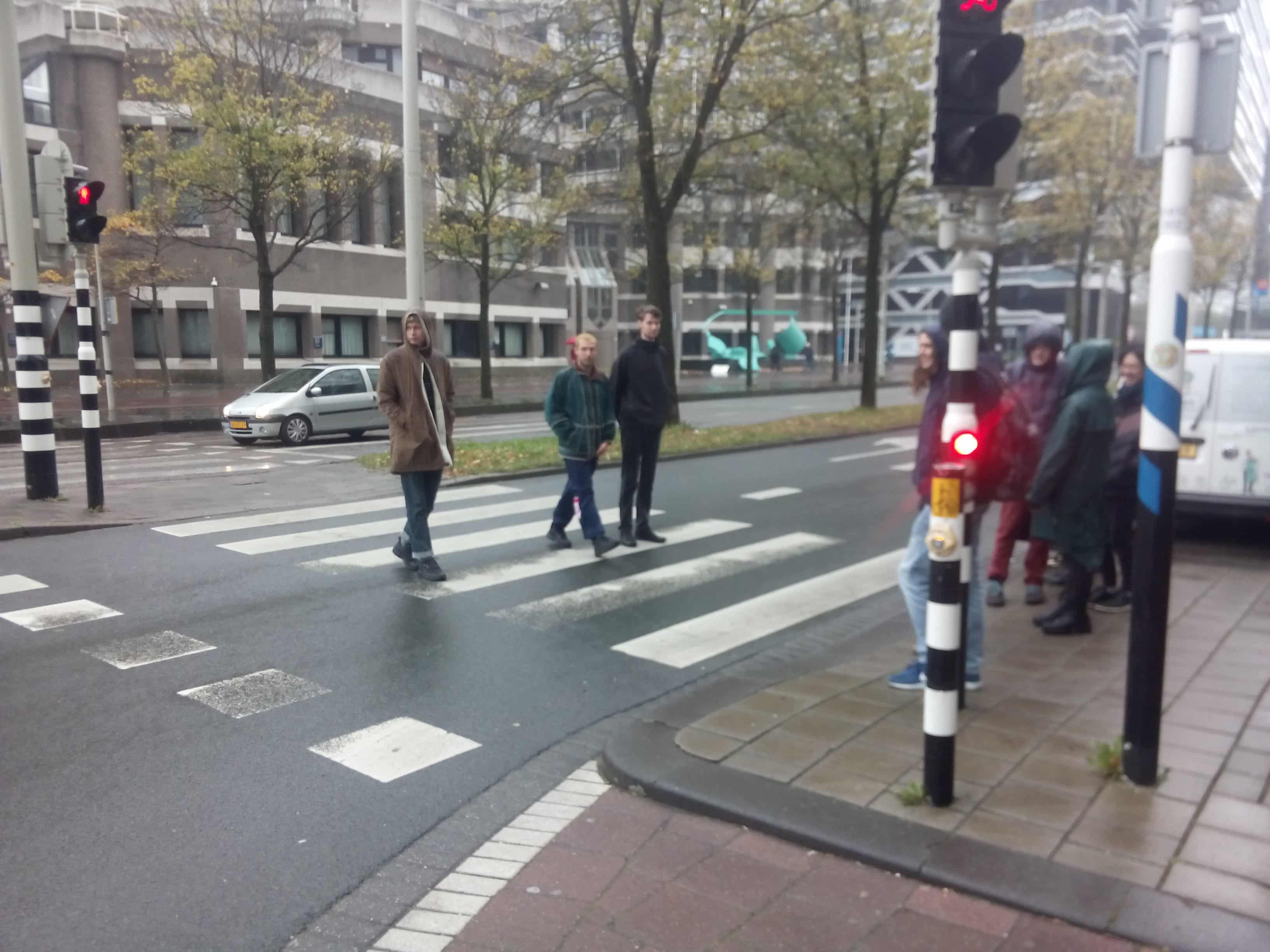 Daniil contributed with his remarkable patience to hang out on the high rise platform, realizing that only two Move-Categories were possible: waiting for a tram, (Stop-Act?) leaving or arriving at the platform. During the last day, we could all experience this briefly, in about 7 minutes of hanging out at the platform. For me, it stood out as a very lonely experience. Daniil later told me that it had taken him about 1.5 hours to get bored during fieldwork. This remarkable and skill-full and exercise in patience impressed me. Daniil explained that he had developed this skill by listening to minimal music.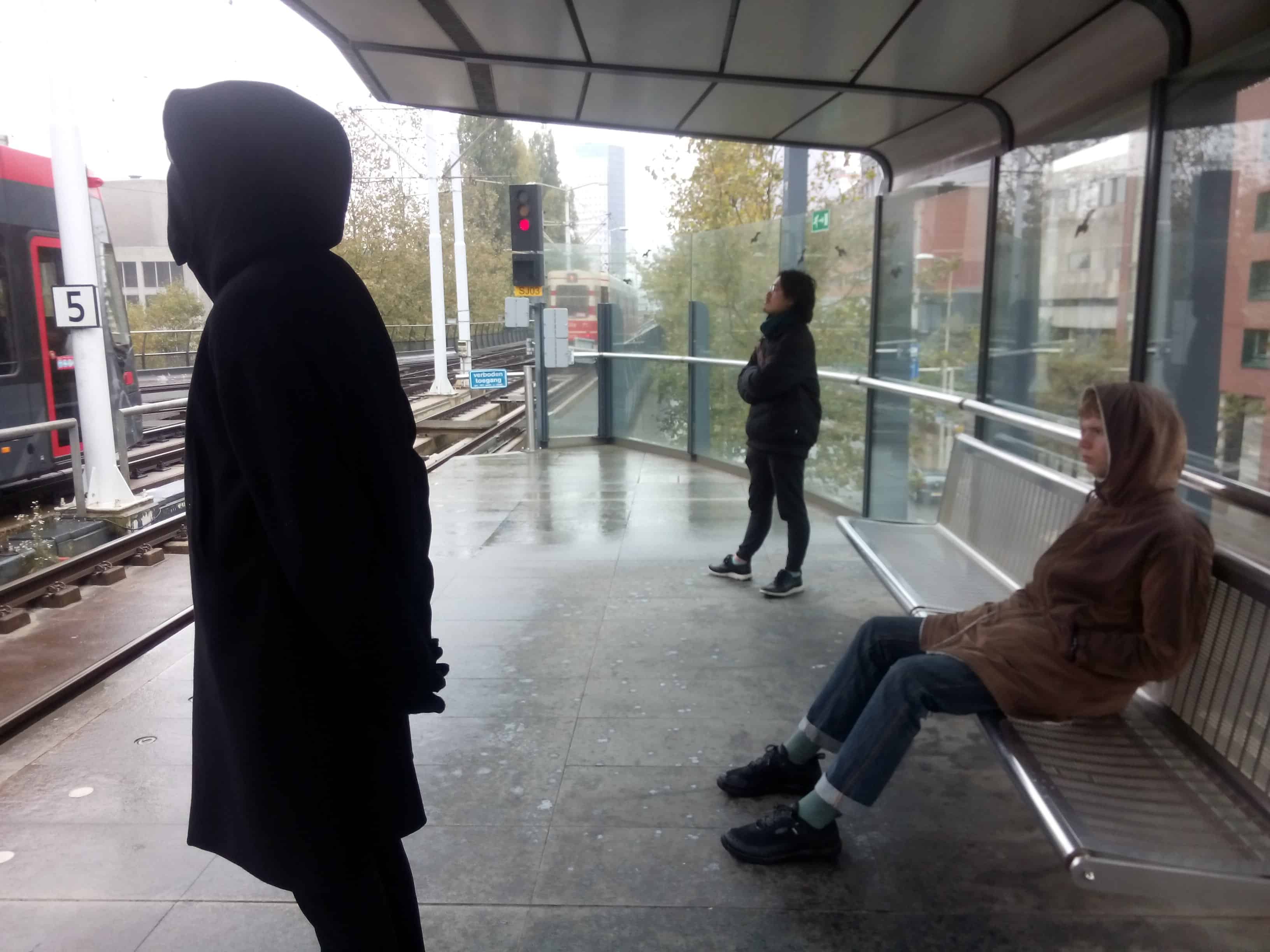 During the initial fieldwork, Tony and Robin together climbed a tree as an observation point. Sitting in the tree, Tony focussed on the concept of Move-Entity. He realized that everything is a Move-Entity. Move-Entities have internal and external relationships shifting in scale. During his stay in the tree, Tony experiences how every Move-Entity is part of something that is again a larger unit and Move-Entity in itself: a tree includes the Move- Entity leaf, branch, trunk. But together with all the other trees, it is a forest, along with houses and streets, a city. One can scale up to the universe even.
On Friday, Tamman takes us to a historic photo outside CS, showing people eat herring from holding the tail in the 1930s. He offers a poetic description of how herring is linked to mobility on many levels. Afterward, I recognize Sarah Ahmed's ideas resonating in this approach, a valid appropriation of another feminist thinker. The herring is both something that enters our body, as a symbol: a fish and a sign. The golden age is built on herringbones, so this herring mobility has buildingness.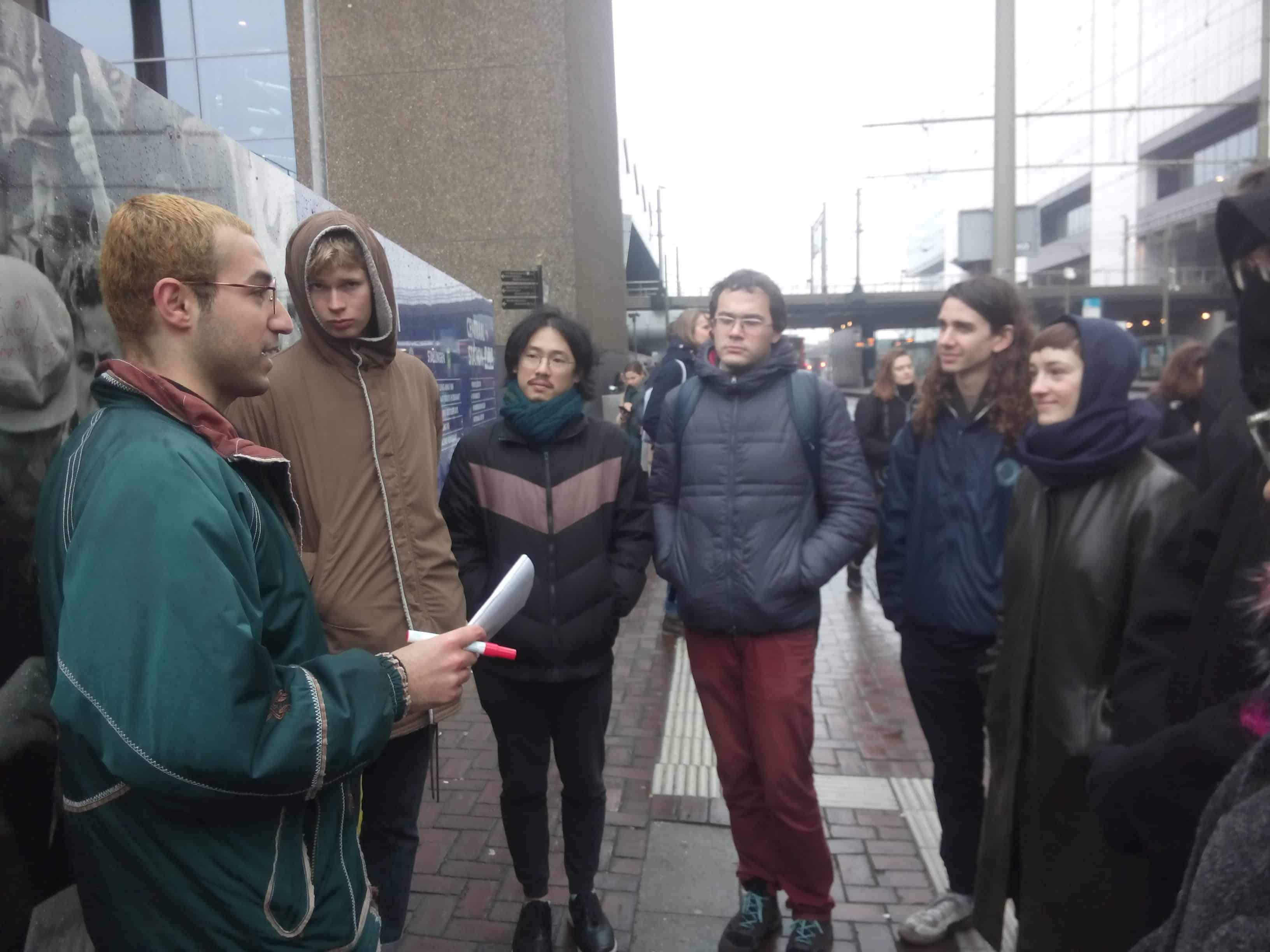 Ann-Flo contributed to the theory with detailed fieldwork-observations and thoughts on the topic of New-Tread. Introducing "closed" and "open" New Tread. This also introduced the concept of intentionality. Questions arose about how its intentionality alters the way Move- Entity produces space.