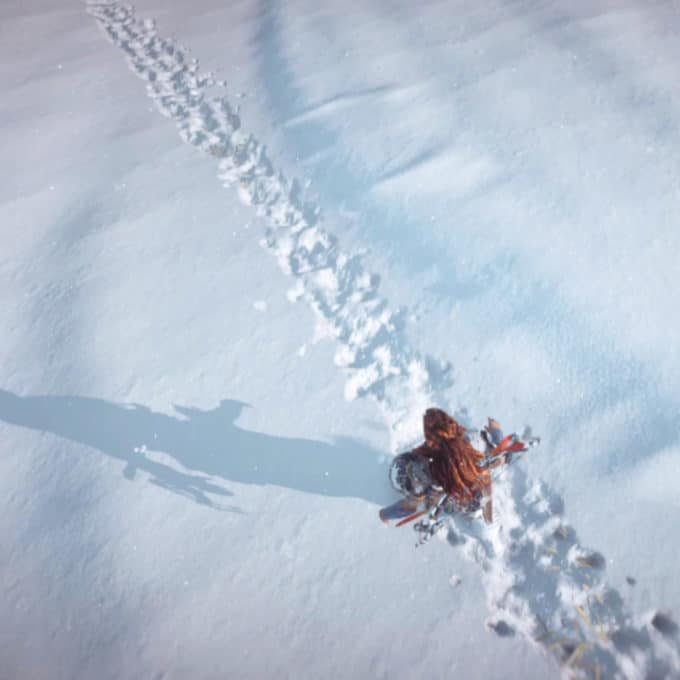 The work interlaces two realities and combines video footage of two virtual environments: the snowy mountain ranges of The Frozen Wilds, part of the open-world video game "Horizon Zero Dawn." and the virtual world of Google Earth.
screenings and installation
• Walking the Machine is presented during the Amsterdam Art Week at galerie dudokdegroot. June 17- 27 2021
• In January 2020 an other ( 2 screen) version of the work was shown, as part of the minus20degrees | festival for art & architecture.
Logline:
Instead of gaming and fighting, Aloy, the protagonist of the game Horizon Zero Dawn traverses her digital landscape in a meditative way: a peaceful, lonely, and at moments boring hike, leaving footsteps and mythic drawings in the virtual snow.
During the festival it was presented in 3 forms:
• Projected on the viaduct pillars as a two-screen video
• Posted as 9 video fragments and a poem on the Instagram account of PolakVanBekum
Synopsis
Shot in the open-world game "Horizon Zero Dawn," the video explores the drawing possibilities of the snow in "The Frozen Wilds." This part of the game area offers players the experience of very realistic, digital snow. In that snow, the main character of the game leaves footsteps. Aloy explores that feature by making a long hike, during which she makes tree footstep-drawing. It took the artists countless hours to clear the area of monsters so that the walk is experienced in piece: no fighting, no storyline, just enjoying the sound of our footsteps and the leaving of traces. Combined with an exploration of snowy mountains in Google Earth, the peace meanders between two digital realities.
Instagram
During the festival, we posted several super short clips of the game-footage/snow-walks on Instagram. Our strategy had been to copy hashtags used by other Instagrammers that post stills of that specific video game.
Curatorial
The work is available for screening in indoor and outdoor situations and can be adjusted to the given space.