Happy to announce our participation in 60+LEAP SECOND SCREENING @ Piksel17 We Take EmoCoin!
We contribute with our short film "Homestead II  1 sec version"

Festival for electronic art and free technology presenting a selection of 60+leap sec shorts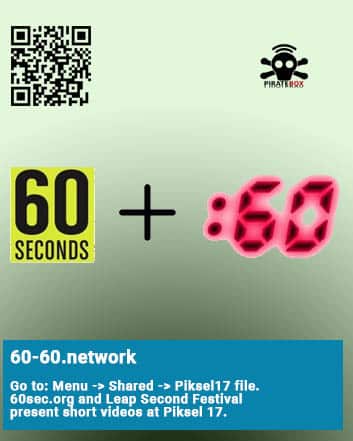 60-60.network is a collaboration between Leap Second Festival and 60Seconds Short Film Festival.
10 1-minute films and 75 1-second ultra-shorts in a loop.
In this virtual public screening piratebox routers are used: the public can connect to and view the films.
November 16-18, 2017
SKUR 14 – Øvingslokaler, Holbergskaien 1
Bergen, Hordaland
and S12 Galleri & Verksted
presenting artists:
60Seconds Short Film Festival:
Jens Axel Beck, Rasmus Riemann, Evalajka Pervin, Maria Gondek, Oana Constantineanu, María José Alós, Roland Wegerer, Alexandra Mocan & Nicolae Romanitan, Verika Kovacevska, Fernando Baena.
Leap Second Festival:
Agam Andreas, Alan Sondheim, Alexandra Andries, Amelia Johannes, Ana Buigues, Anne Niemetz, Ayshe Kizilcay, Bence Rohanszky, Bjorn Magnhildoen, Bruno Melo, Chris Funkhouser, Christian Boen, Cleber Gazana, David Whitcraft, Dennis De Bel, Dom Barra, Domenico Barra, Dominik Podsiadly, Edoardo Gaudieri (det0une), Eleonora Roaro, Esther Polak and Ivar van Bekkum, Frere Reinert, Hande Zerkin, Heidi Horsturz, INTERLICHTSPIELHAUS, Igor and Ivan Buharov, Irena Kalodera, Jules Varnedoe, Jurgen Trautwein, Justyna Kabala, Karina Mitchell, Kyriaki Goni, Lau Ching Wa Jess, Leap Second Festival, Lorna Mills, Martin Howse, Matt Vogel, Matthias Hauan Arbo, Mauricio Sanhueza, Miriam Poletti, Nenad Nedeljkov, Nick Mattan, Nico Vassilakis, Nigel Roberts, Pasha Radetzki, Patrick Lichty, Paul Wiegerinck, Pawel Wocial and Kamila Tuszynska, Ria Puskas, Sarawut Chutiwongpeti, Sherwin Altarez Mapanoo, Simon Coates, Simon Perathoner, Sissel Berntsen, Theodora Prassa, William Wolfgang Wunderbar with Sacha Toncovich.
Produced by 60Seconds Short Film Festival and Leap Second Festival (Bjørn Magnhildøen, Radovan Misovic, Zsolt Mesterhazy, Ada Ortega Camara, Ana Buigues).
Supported by Norwegian Film Institute (NO) and Mondriaan Fund (NL).